TalkBLACK has adopted the Class of 2018 at KIPP VISION Academy, a charter school in East Atlanta.
Our members will actively engage with these 80 students on their educational journey from 5th grade to their 2018 graduation. We will also provide support to school administration and parents.
WE NEED YOUR HELP!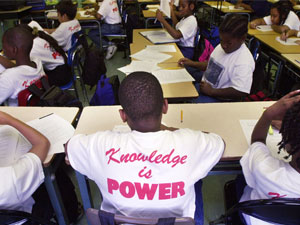 2011 KIPP VISION ENGAGEMENT OPPORTUNITIES


Career Days

– Speak to students about your career starting March 18th (about 2 hours).
Volunteer during Saturday School

– Commit to teaching a subject of interest from 8:30am – 11:30am on 2/26, 3/5, 3/19, 4/16, 4/30 and 5/7.
Movie or book discussion

– In April or May will study a book or movie and discuss it for 2 hours.
KVA Social Media Project

- Work with a select group of students to produce the school's social media presence (Facebook, YoutTUBE, Twitter, etc).
Parent workshop on financial literacy

- We'll play the cash flow game and discuss financial literacy (about 2 hours).
2011 KIPP VISION ADMINISTRATIVE PROJECTS


Website development

– Help with updating and developing KVA's Website.
Recruiting/promo video

– Help create and edit this for the school.
Assistance with recruiting students

– Help post flyers/yard-signs etc.
Beautification projects

- Need artists that can paint murals.
Photography projects

– Need photographers to capture action shots of students to be used in marketing collateral.
Assistance with getting signatures for a petition to open an elementary school

- Need 1,000 signatures from people in this community; we will need street teams to target people in high-traffic areas.
♦   ♦   ♦   ♦
var _gaq = _gaq || []; _gaq.push(['_setAccount', 'UA-22413640-1']); _gaq.push(['_trackPageview']);
(function() { var ga = document.createElement('script'); ga.type = 'text/javascript'; ga.async = true; ga.src = ('https:' == document.location.protocol ? 'https://ssl' : 'http://www') + '.google-analytics.com/ga.js'; var s = document.getElementsByTagName('script')[0]; s.parentNode.insertBefore(ga, s); })();